Licensed Plumber in the Bensenville, Illinois Area
"Professional Du Page County Plumbing Whenever You Need It"
NEVER pay additional charges, upcharge or overtime charges!
ALWAYS FREE estimates!
24/7 Service Available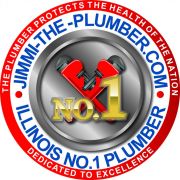 Proudly installing and repairing plumbing in Bensenville, IL area homes and businesses since 1989, Jimmi The Plumber is a trusted and preferred provider of plumbing service, pipe and valve repair, and residential and commercial water system services.
Jimmi The Plumber offers a wide range of water-related services from a pipe and tube installation during construction to rooting clogged pipes and installing new valves, faucets, drains, and pipes post construction to enhance your Bensenville area home or building. Whatever your plumbing project Jimmi The Plumber can get water flowing to that new kitchen or bath, relocate or expand sink, shower, or tub, or update piping and plumbing fixtures to replace corroded parts, prevent costly leaks and meet Illinois plumbing codes.
Water Heater Specials
40 gallon natural gas water heater installation and labor $1,025
40 gallon natural gas power vent water heater installation and labor for $1,691
50 gallon natural gas water heater installation and labor for $1,103
50 gallon natural gas power vent water heater installation and labor for $1,793
all include 6 year warranty on parts and labor
expires 12/31/2023
---
Call for a FREE Quote
---
For over 34 years, Jimmi The Plumber has been the area's leader in well testing, well repairs and well pumps. If you are experiencing intermittent water pressure or lack of water pressure altogether, it's time to call Jimmi The Plumber. Our skilled plumbing technicians will quickly determine the cause of your water flow problems, whether from an obstruction, pressure regulator malfunction or other issues. We will quickly assess your pump or well issue and provide a quick and cost-effective solution.
If your Bensenville area home or business is having plumbing problems, give Jimmi The Plumber a call at (847) 469-9769 right away. Leaky pipes can cause costly water damage to your home and can lead to mold and mildew. Clogged pipes can lead to overflowing sinks and toilets. Yuck! Call for Jimmi The Plumber an immediate resolution to your urgent plumbing problems.
Living in the Bensenville area without hot water is at best inconvenient. Cold showers are not fun. Washing dirty hands with cold water is often ineffective. Washing dishes in cold water is not sanitary. If the hot water heater in your Bensenville home is failing, Jimmi The Plumber can help. Give us a call at (847) 469-9769 and we'll help you get your water hot again.
Your Bensenville area business having plumbing issues? Jimmi The Plumber plumbers are licensed to handle commercial plumbing problems such as leaking steam pipes, lavatory problems, roots in wastewater pipes, and heat distribution irregularities in buildings using forced hot water or steam radiators. Give Jimmi The Plumber a call at (847) 469-9769 to learn more.
Why Choose Jimmi The Plumber?
FREE service calls
FREE estimates
Fully licensed & insured
Same day service
All technicians have 15+ yrs experience
All technicians have had background checks & drug testing
LOWEST price in the area on water heaters
---
Call for an Estimate
---
Call now to discuss your Bensenville plumbing needs.